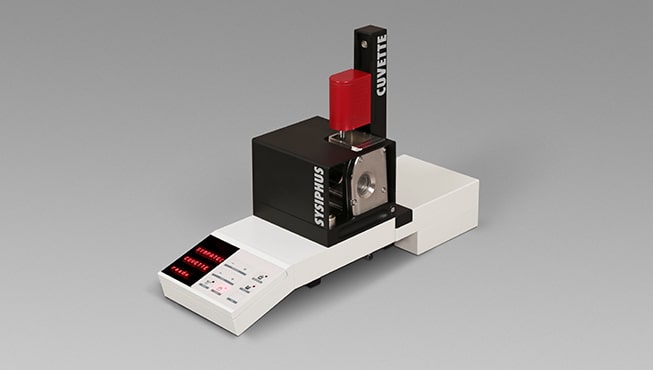 CUVETTE redesign with SYSIPHUS wet dispersion
Discover our redesigned CUVETTE with innovative stainless steel cuvette SYSIPHUS. Particles from 0.1 µm are reliably dispersed in a sample volume of only 50 ml in closed loop operation. In addition to SYSIPHUS, our proven stationary sintered glass cuvettes are available in 6 ml and 50 ml. The modular housing design of CUVETTE enables the mounting of all three cuvette types, guarantees optimal sample preparation with integrated ultrasonic finger and ensures laser protection at all times.
For further information on CUVETTE & SYSIPHS, please contact us.

Stationary cuvette for wet dispersion of smallest sample amounts
The CUVETTE is a wet dispersing system for our laser diffraction sensor HELOS and is specially designed for particle size analysis of suspensions and emulsions with small sample volumes of less than 50 ml as CUVETTE 50 or 6 ml as CUVETTE 6. The cuvette is made out of high quality optical glass only and no glue has been used for its construction, so any contamination of the suspension or emulsion is strictly avoided. The sample is completely conserved for future use, which makes this device to an ideal choice for expensive and/or pharmaceutical samples.
CUVETTE 6
The streamlined geometry of the 6 ml stationary cuvette ensures that even small sample volumes are optimally presented. A PTFE coated manual stirrer delivers the necessary homogenisation of the sample prior to the measurement. CUVETTE 6 combined with HELOS/BR is suitable for wet measurement of smallest amounts of finely dispersed samples with particle sizes ranging from 0.1 µm to 87.5 µm within measuring range R1 to R2.
CUVETTE 50
The geometry of the 50 ml stationary cuvette produces a long optical path for the laser beam (over 20 mm) in the sample liquid, thereby enabling the optimum concentration for reliable measurements – even with low sample concentrations. An integrated ultrasonic finger made of titanium can be manually lowered into the cuvette as required. The energy input for dispersion can be precisely controlled from 0 to 60 W by the software. The necessary homogenisation of the sample during the measurement is achieved with the aid of a PTFE-coated magnetic stirrer with adjustable speed. CUVETTE 50 combined with HELOS/BR or HELOS/KR is suitable for wet measurement of small amounts of finely dispersed samples with particle sizes ranging from 0.25 µm to 3,500 µm within measuring range R2 to R7.