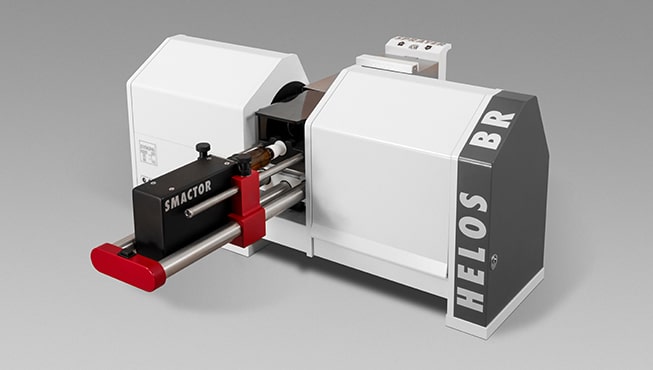 Relaunch of SPRAYER at POWTECH
The next generation of the SPRAYER adapter for particle and droplet size analysis of pump dispensing sprays has been redeveloped from the ground up. The smart, software-controlled actuator SMACTOR enables controlled and reproducible triggering profiles with a variety of individually assignable parameters (acceleration, speed, stroke length, force ...). Optionally, SMACTOR with a variable rack is also used independently of the SPRAYER in free experimental set-ups with a variety of different spray applications.
Explore the possibilities of SPRAYER & SMACTOR at POWTECH 2022.
Dosing unit for particle and droplet size characterisation within spray cones of MDIs, pump or propellant gas sprays
The SPRAYER is a versatile adapter of pump sprays or propellant gas sprays to the laser diffraction sensor HELOS for the measurement of particle and droplet size distributions. As the results are usually depending on a variety of parameters driving the spraying process, e.g. the force or the path-velocity behaviour, the distance to the measuring zone or the gradient of the spraying device to the horizon, the spraying process has to be performed under controlled conditions.
The actuating piston from SPRAYER can be controlled by software in terms of acceleration, velocity and stroke length by the electronic trajectory actuator. Alternatively the electronic force actuator can be used, if the piston has to be driven at a constant, definable force. The complete actuation process is controlled and monitored by software for subsequent evaluation. The distance of spray outlet to the measuring volume can be varied under software control.
The SPRAYER can be easily adapted to the customer-specific styles of the spray bottles. The direction of the piston is adjustable. The measurement can be performed by the application software in three different modes:
Integration over the complete spraying process
Separation of the results in three phases: start, middle, end as requested by the FDA
Time resolved measurements with definable resolution up to 2,000 particle size distributions per second
For the operation an extraction unit is required for sample collection and the generation of a laminar air flow in the measuring zone of the HELOS. The SPRAYER is available in two versions: with Trajectory Actuator or with Force Actuator. The SPRAYER can be extended by the complementary actuator, if needed. The gradient of the spraying device can be varied by using ROTOR as an option.
SPRAYER and ROTOR master the activation of sprays under angles from 0° to 90° in steps of 5°. Together with the laser diffraction sensor HELOS/BR the complete system lifts automatically and turns to the desired angle. A sensor integrated in the SPRAYER records the tilt angle.