Intuitive and Versatile Control and Evaluation Platform for Particle Size and Particle Shape Analysis


PAQXOS succeeds the well proven WINDOX application software and incorporates our collective particle sizing expertise into a user-friendly and forward-thinking framework. PAQXOS is realised as a powerful, network-ready 64-bit software for ­Windows® environments. It serves as the joint base for all Sympatec instruments with a network interface and the connected dispersers, samplers as well as accessories for the laboratory and process environment. PAQXOS operates network wide under Windows® 11, 10 or 7. An intelligent step-by-step wizard together with the automated system detection supports the occasional or inexperienced user to get successfully started with particle sizing. PAQXOS autonomously takes care of the fundamental system settings and supports the user with built-in expert knowledge to develop a feasible measurement method and yield meaningful results.
PAQXOS has enhanced software and hardware requirements with respect to WINDOX. Especially the display should have a minimum size of 14" and a resolution of 1920x1080 pixels. Therefore special bundles of hardware, software and education are available in addition to a basic software upgrade. For a convenient migration, PAQXOS and WINDOX 5 can be installed and operated on the same computer. An integrated Database Converter is used to convert WINDOX databases to PAQXOS. All settings, templates, measured data and results are transferred. PAQXOS is compliant with all related ISO standards:
Laser diffraction | ISO 13320:2020
Dynamic image analysis | ISO 13322-1,2: 2014, 2006
PCS, PCCS | ISO 13321-1: 2014, ISO 22412: 2008
Ultrasound Extinction | ISO 20998-1: 2006
Representation of results | ISO 20998-2: 2014 and ISO 9276-1, 2, 3, 4, 5, 6
PAQXOS is also compliant with FDA CFR 21 part 11 for electronic records and signatures. It includes more of two decades of experience with particle sizing in pharmaceutical environments.
High usability via step-by-step wizard for quick and successful measurements | Adaptable desktop and self-explaining icons | Informative help texts | Well-defined templates for typical applications | Intuitive management of SOP's
Significant presentation of results as customized graphics, trends and tables with out-of-spec highlighting capability to save time during routine work
High quality multi-page reports
Various export and import functions for simple information exchange
Automated operation and communications with external samplers, robots, SPCs, MODBUS or TCP/IP servers with PASCAL-like script language
Compliance with related ISO standards and FDA CFR 21 part 11 for audit trail & electronic signatures in pharmaceutical applications
Powerful data base management | Flexible definition of access rights | Integrated license management | Automated back-ups
Safe data storage using a 64-bit transaction based data base
Simple migration from WINDOX to PAQXOS
Latest technology software for efficient support of WINDOWS 11, 10 or 7 with high resolution screens in a network environment
Discover PAQXOS - Watch the video!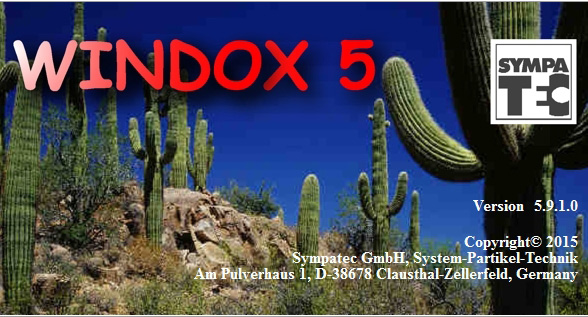 WINDOX
Since 2017 the new PAQXOS-Software is shipped with all new Sympatec instruments as the standard of delivery. For users who have either to stay with WINDOX 5 due to regulatory requirements or owners of instruments with the former fibre optical interface we continue to offer WINDOX 5.10 as current and validated version. It operates under WINDOWS 7 and 10. Please get in touch with the Sympatec service team.