Conférence Internationale Matériaux
The MATÉRIAUX 2022 international conference, to be held in Lille (Hauts-de-France) from 24 to 28 October 2022, will be organised under the auspices of the French Federation of Materials (FFM), which brings together some thirty scientific and technical associations working on materials.

It is part of the series of MATÉRIAUX conferences, which have been held every four years since 2002 and have established themselves as an indispensable French-language event for all players in the field of materials (academics, researchers, engineers and PhD students), whether they are universities or industry.
We look forward to meeting you!

Go to Conférence Internationale Matériaux

Register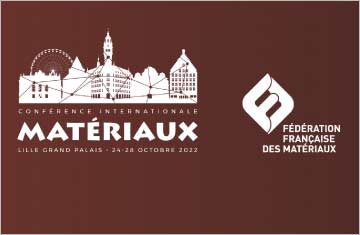 Lille| FR